ACEC-Ontario is reliant on the work of member volunteers to progress in its strategic objectives. Without volunteers, the work of the association would not be possible. The ACEC-Ontario Volunteer Awards recognizes and celebrates the individuals who work to support the association's strategic mission and demonstrate the value of the engineering community through volunteering. This program serves to highlight the exemplary work ethic, values and contributions that ACEC-Ontario encourages all volunteers to strive to achieve. The awards program provides volunteers with a respectable professional achievement to formally mark their efforts, and it provides member companies with an opportunity to proudly recognize the efforts of their employees as leaders in the consulting engineering industry. Download the nomination form here.
---
Recognition
Each winner will be recognized with an award at the 2023 ACEC-Ontario Annual General Meeting being held virtually on Thursday, September 14, 2023. Winners will also receive a complimentary ticket and compensated for travel expenses to the Engineering Means Sustainability Forum.
Important Dates
Friday, April 14, 2023 – nominations period opens
Monday, June 12, 2023 – nominations period closes
Monday, July 17, 2023 – Friday, July 21, 2023 – winners notified
Thursday, September 14, 2023 – Annual General Meeting
---
Awards Summary
AWARD NAME
AWARD THEME
DESCRIPTION
ELIGIBILITY CRITERIA
Emerging Leader Award
Young professional, emerging leaders and building community
Recognizes one ACEC-Ontario young professional volunteer who, within the first five years of volunteering with ACEC-Ontario, has demonstrated remarkable promise as a future leader and community-builder in the consulting engineering sector.
– Current ACEC-Ontario volunteer.
– Must be a Young Professional at the time of nomination (40 years of age or less).
– Must have been volunteering with ACEC-Ontario for no more than 5 years.
Pinnacle Award
Excellence in leadership, fostering engagement
Recognizes one ACEC-Ontario volunteer for their exceptional leadership in their volunteer role at ACEC-Ontario.
– Current ACEC-Ontario volunteer.
– Eligible nominees must be one of the following: an Officer or Director on ACEC-Ontario's Board of Directors, a Committee or Network Chair or Co-Chair, a member of an ACEC-Ontario Chapter Executive.
ACEC-Ontario Chair's Award
Volunteer impact
To a deserving ACEC-Ontario member volunteer who has made a significant contribution to the association over the course of the ACEC-Ontario outgoing Board of Director Chair's term as Chair and/or Chair-Elect.

The winner is selected by the outgoing Chair of the ACEC-Ontario Board of Directors.
– Current, or previous, ACEC-Ontario volunteer.
-Volunteer activities must have occurred during the time which the outgoing Chair has served the association as either Chair or Chair-Elect.
– ACEC-Ontario volunteers employed by the outgoing ACEC-Ontario Chair's firm are ineligible.
– All nominees are eligible for the Chair's Award by virtue of being nominated for the Pinnacle, Emerging Leader, or Distinguished Service Award, providing they do not work for the outgoing Chair's firm.
– All ACEC-Ontario volunteers during the outgoing Chair's term are eligible, regardless of whether they have been nominated for another award, providing they do not work for the outgoing Chair's firm.
Distinguished Service Award
Longstanding commitment & sustained impact.
Recognizing an individual who has made distinguished and enduring contributions to the association for 10+ years.
– Current, or previous, ACEC-Ontario volunteer.
– Eligible candidates must have acted in a volunteer capacity with ACEC-Ontario for 10 years.
– Volunteer engagement activities do not have to be conducted for 10 consecutive years.
– Individuals who have taken a leave of absence (for any reason) but have volunteered for a total of 10 combined years are eligible.
Judging Criteria:
---
Past Volunteer Award Winners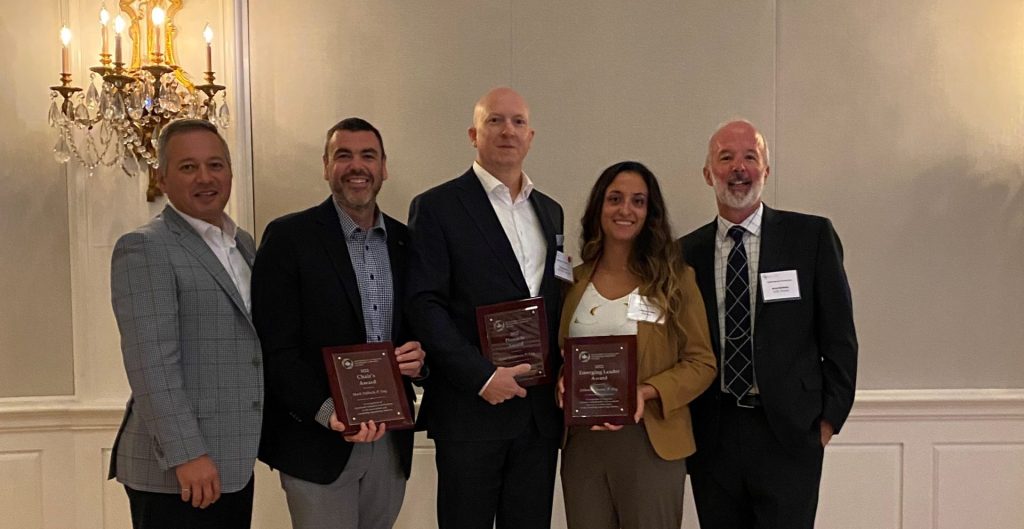 Chairs Award – Mark Tulloch, TULLOCH Engineering
Pinnacle Award – Ryan Matthews, J.L. Richards & Associates Limited
Emerging Leader Award – Julianna Arcese, R.J. Burnside & Associates Limited
Distinguished Service Award – Edson Donnelly, Novatech Engineering Consultants Ltd